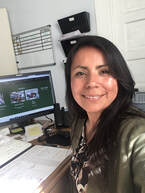 Rocio Gomez
Office Assistant and Volunteer Coordinator
How did you come to work at the ministry?
I came to work to PUM in October 2018, soon after I moved to San Diego from Los Angeles. I was looking for work and saw an advertisement on Craigslist for an Office Assistant. I submitted my resume, a few days later I received a call for an interview. I was in a critical moment of my life, living in my car with my three children, and staying in the Safe Parking Program. This opportunity was an answer to my prayers. The Lord opened a door of opportunity in the midst of many challenges.

Who was a big influence in your career choice?
One of my biggest influences in my career was my dad, Antonio Gomez, he was a teacher in Mexico. He also served the less fortunate by teaching them how to read and write. He organized all of the events that were happening in the small village where we lived in Mexico. I love teaching and organizing, and those traits I have through my dad. With the Lord's help and strength, I will be starting an adult education program in the Spring of 2020 with Point Loma Nazarene University in Organizational Management.


What was "your finest moment," the thing you're most proud of?
The finest moment in my life was when I took into my heart the Lord as my Savior. Because through Him, I am who I am today, and still transforming.


Is there a great client story you'd care to share?
I had been working with a couple of clients that had no hope of getting their birth certificates, even after sending the application a few times and getting in contact with Vital Records confirming that the application has be received. We waited a few months for one of our clients, finally one of the birth certificates came in. The client had been adopted, had changed his name, he had no hope of ever getting his birth certificate. When he saw it on his hand, tears came rolling down his cheeks. He was so thankful! The client sat down with a case worker to get a No-Fee voucher to apply for his CA ID. In a couple of weeks his California ID came in, then his social security number, benefits, and the rest only God knows. It's amazing what happens inside this old house, it transforms you in a way that I cannot comprehend, only God.


What attracted you to New Day?
What most attracted me to PUM was the kind of work that is done through the ministry and those who come and use their gift to benefit those in need. I had seen similar services in Los Angeles, but not to the extent that I am experiencing at this moment of my life. It is incredible to be part of New Day, I love the transformation that each day brings. A new day, a new opportunity to come and serve and to be that helping hand to our neighbors. There has not been a day that I procrastinate on coming to work and serving those in need. There have been challenges throughout the day, but it is so rewarding at the end of the day to see how many people we have helped move forward in their lives. Amazing!


What's your favorite food/meal?
My favorite meal is Sushi and I love avocados.


What's your favorite sports team?
I am not a sports fan, but I recently attend to a Padres game and we had an amazing time screaming, singing, and watching the fireworks at the end of the game.


What's your favorite TV program? And your least favorite?
My favorite TV program to watch with my kids is Full House and Fuller House.


What do you for a good time when you're not working?
Three things that I love doing when I am not working:
        • I love being a couch potato with my family
        • We love to enjoy the outdoors
        • I love to fellowship with my church friends.
Our ministry has been serving those in need for over 50 years. Every year...